You are here:
Catalog Quick Order
Don't Miss Our Sales!
International Latin
Cha Cha Variations - WATCH ONLINE ONLY
Product Information
Produced by Dance Vision 2007. Approximately 133 minutes.
Music Credits: (CD217) Track 1 "Havana"
** DVD has sold out. Watch online only.
This DVD contain advanced patterns, enhanced with additional elements, intended to help you take your dancing to a new level. This variation DVD will not review the basic patterns since it is assumed that they are already known.
Max Kozhevnikov & Yulia Zagoruychenko

Item No:

DISMK219
About Instructors
Customer Reviews
Coeur d'Alene, ID, USA 5 Stars

Wow! Inspiring dancers! But very clear and concise instructions shown for lead and follow, timing, and footwork. Quality of the DVD is the usual with Dance Vision, ie excellent. Very professional! I am just learning the basics, but this will pay huge dividends over time, as I add one variation at a time. Since the variations are for Bronze to Gold level, I cannot imagine anyone not getting a lot of benefit out of the DVD. Well worth the extra price of this series.
Buyer's Guide
Shipping
Our warehouse is fully stocked, allowing us to ship anywhere in the world, within 24 hours of your order. Orders received on Saturday or Sunday will be shipped the following Monday.
Key

Standard Shipping Method

ADD

Additional Shipping Charges

NA

Not Available
Shipping Policies
Shipping prices vary depending on the merchandise and the region to which they are shipped. FedEx cannot ship to any PO Boxes or FPO/APO. We use U.S. Mail or Priority Mail to PO Boxes or FPO/APO. Orders to Alaska, Hawaii, Guam & Puerto Rico will be sent by Priority or U.S. Mail - FedEx is available at an additional charge.
Canadian Customers - Orders shipped to Canada by Air Mail cannot be tracked. We have a 30 day wait policy before reshipping an order to Canada that has not been received via Air Mail.
Order Process
All orders received after 12 noon Pacific Standard Time - USA will be processed and shipped the following business day. All orders received on Saturday and Sunday will be processed on Monday.
Customs and Import Information
You may be subject to import duties and taxes, which are levied once the package reaches your country. Additional charges for customs clearance must be borne by you; we have no control over these charges and cannot predict what they may be. Customs policies vary widely from country to country; you should contact your local customs office for further information.
DVDs, Videos, CDs, Books, Manuals & Accessories Return Policies
Please order with care. We are unable to accept returns or make exchanges on any DVDs, Video tapes, CDs or any merchandise except: 1) If an item is received in a damaged condition, or 2) If there is an error in an order on our part. (Items must be returned within fourteen days of delivery for replacement as ordered.) For defective tapes: First, please check the tracking system on your VCR. Then try another tape to see if the same problem occurs. If at that time you discover the problem is only apparent with our video, please give us a call at our toll free phone number and we will be happy to take care of the problem.
You must call us at 800-851-2813 for a return authorization.
Send your returns to:
Return Department
Dance Vision
9081 West Sahara Ave. Ste 100
Las Vegas, NV 89117-4803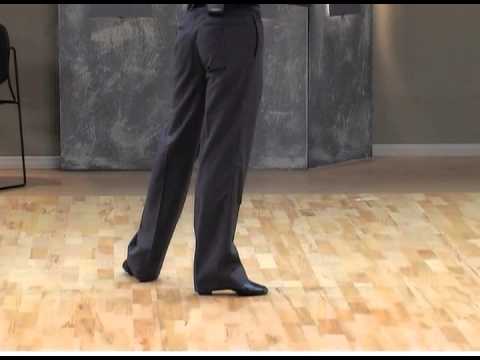 Two ways to buy!

Purchase individual steps and watch them online instantly. Learn as you go or brush up on a figure you may have forgotten. Your online media is stored in your video Library and can be accessed from any device (computer, phone, IPad, etc.) by logging into your Dance Vision Internet account.

Please note: Our online videos are streamed live. They cannot be downloaded to your computer or portable electronic device.
Individual Steps
| | # | Title | Time | Price | |
| --- | --- | --- | --- | --- | --- |
| | 1A | New Yorker: A) Lady Underarm Turn | 6:01 | $2.99 | |
| | 1B | New Yorker: B) Check with Free Spins | 4:43 | $2.99 | |
| | 1C | New Yorker: C) Lady's Lock with Man's Press Line | 7:06 | $2.99 | |
| | 2 | Spot Turns to the Left & Right | 6:18 | $2.99 | |
| | 3 | Shoulder to Shoulder | 4:40 | $2.99 | |
| | 4 | Hand to Hand | 5:21 | $2.99 | |
| | 5A | Three Cha Cha Chas: A) Underarm Turn to Right and Free Spins | 8:28 | $2.99 | |
| | 5B | Three Cha Cha Chas: B) Hook and Spiral to the Right | 0:03 | $2.99 | |
| | 5C | Three Cha Cha Chas: C) Side by Side Chassés and Spirals | 6:59 | $2.99 | |
| | 6 | Time Step | 6:33 | $2.99 | |
| | 7 | Cross Basic | 4:36 | $2.99 | |
| | 8 | Fan | 4:45 | $2.99 | |
| | 9A | Alemana: A) Overhead Wrap | 4:20 | $3.99 | |
| | 9B | Alemana: B) Syncopations in Place | 5:37 | $3.99 | |
| | 10A | Hockey Stick: A) Hook & Turn | 4:38 | $3.99 | |
| | 10B | Hockey Stick: B) Lady's Solo Turn | 4:53 | $3.99 | |
| | 11 | Natural Top | 4:16 | $3.99 | |
| | 12A | Open Hip Twist: A) Lady's ½ Turn & Check | 4:33 | $3.99 | |
| | 12B | Open Hip Twist: B) Man's Behind the Back Hand Change | 4:35 | $3.99 | |
| | 13A | Spiral: A) Change of Direction | 4:55 | $3.99 | |
| | 13B | Spiral: B) Lady's Underarm Turn | 4:25 | $3.99 | |
| | 14 | Rope Spin | 5:46 | $3.99 | |
| | 15 | Advanced Hip Twist | 4:56 | $3.99 | |
| | 16 | Cuban Rocks | 5:26 | $3.99 | |
| | | Dance Demonstration | 1:23 | $0.99 | |